From loose gemstones to mineral specimens, expand your gemological education and explore your own gemstone journey.

Tune in and watch Gem Discoveries by gemstones.com Mondays at noon ET.
Watch Now!
Sorry, you may only compare up to 4 items. Please remove an item to add a new one.
Gemstone Information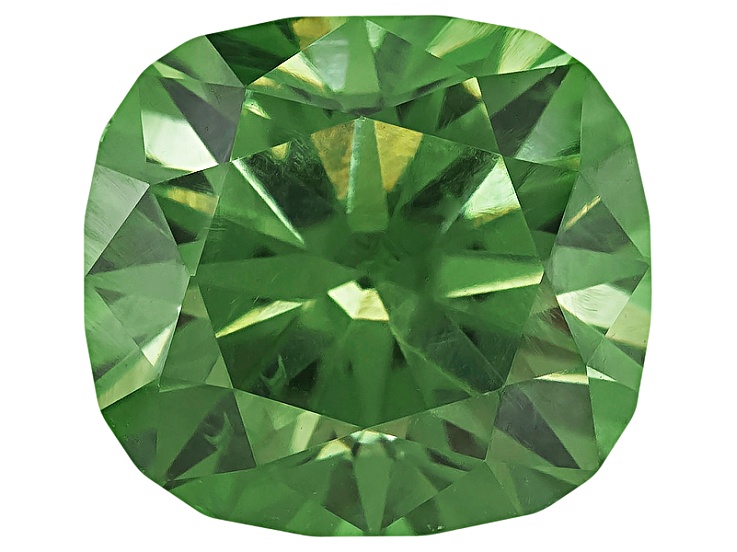 Gemopedia™
Demantoid garnet is one of the most desirable of all colored gemstones and extremely rare. A color variety of andradite garnet, the name demantoid originates from the old German word demant meaning "diamond-like," because of a luster and dispersion that yields a fire even higher than diamonds.
Loose Demantoid Stones
Find vivacious demantoid garnet gemstones at JTV. Meaning diamond-like, demantoid is lustrous and beautiful like its stunning diamond counterpart. With dozens of demantoid garnet gemstones to browse, you'll find the perfect match among our collection that complements your look. Browse stunning demantoid garnet for men and women.

One of the most sought-after gemstones today, demantoid is green in color and a garnet mineral. This demantoid garnet variety was discovered in the late 1860s in Russia's Ural Mountains, and is considered the most valuable and rarest of the garnet group of minerals. Russia remained the only source of demantoid garnet until 1996, when more was unearthed in Namibia, and again in 2003, in Madagascar.

With such a beautiful selection of demantoid garnet gemstones available, you may lose yourself among captivating greens and until you meet your style match. While shopping, don't forget to explore more gorgeous jewelry and gemstone options including jewelry storage for safe-keeping, newly reduced jewelry and more. Plus, get the scoop on the latest jewelry trends. Explore all available gemstones and jewelry until you find the one you love.

Whether you're a casual collector or an avid enthusiast, you've come to the right place to enhance your existing demantoid garnet collection and create your own stunning pieces. Shine bright, and shop demantoid gemstones today.
You might also be interested in: Diamond Gemstones
Share the Jewelry Love
Shop your favorite photos and share your own with #JTVjewelrylove for a chance to be featured!