From loose gemstones to mineral specimens, expand your gemological education and explore your own gemstone journey.

Tune in and watch Gem Discoveries by gemstones.com Mondays at noon ET.
Watch Now!
Sorry, you may only compare up to 4 items. Please remove an item to add a new one.
Gemstone Information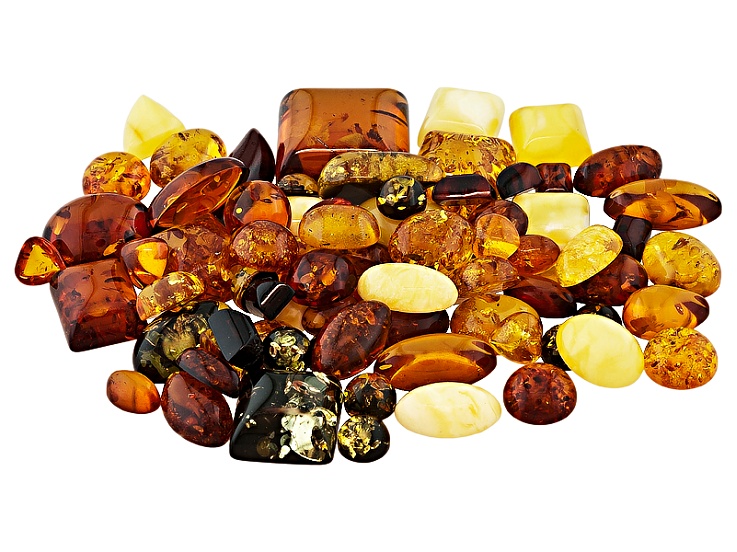 Gemopedia™
Amber is the ancient fossilized resin of trees that grew in forests millions of years ago. Over the eons, chemical and physical changes occurred, fossilizing the resin to produce what we know today as amber. Research indicates that amber ranges from about two million to 360 million years in age, although most gem quality amber is between 10 million and 50 million years old. Hardened resin that is significantly younger than amber, is known as copal. Although the age boundary that differentiates amber from copal is still debated, copal is considered to be less than 10 million years old, with a large proportion being significantly younger.
Loose Amber Stones
There's no shortage of amber jewelry to discover from JTV, including gorgeous amber bracelets, amber earrings, amber necklaces and amber rings. You can't go wrong with any of these great amber jewelry options, but if you're hoping to design and create your own custom amber jewelry or if you have your own jewelry setting but are missing the stone, you'll want to be sure and check out JTV's amber gemstones. With your own loose amber stones, you can incorporate the beauty of amber in any piece of jewelry you desire. Amber is sometimes regarded as a birthstone for the sun sign Taurus, which makes amber gemstones a great gift for those born in late April or early May.

Amber has been used in jewelry for thousands of years – since the Stone Age! It's easy to see why amber is so cherished: its signature golden brown color is truly one of a kind. Yet it's not only the color that makes JTV's loose amber gemstones from Lithuiania so appealing. JTV's amber free form slices feature intricately carved images that make these amber stones works of art in and of themselves. No matter what piece of jewelry you plan to add these amber gemstones to, they are guaranteed to stand out.

Once you've explored JTV's gorgeous amber gemstones, you may want to explore JTV's other great loose gemstone options like loose alexandrite stones, loose citrine stones and loose black opal gemstones. There's something for everyone at JTV.
You might also be interested in: Amethyst Gemstones
Share the Jewelry Love
Shop your favorite photos and share your own with #JTVjewelrylove for a chance to be featured!