How to Clean Diamonds
By Amanda Phillips, Erin Smith
Published: 07/26/2022
Modified: 10/12/2023
Treat your diamonds with the love they deserve. Our easy-to-follow tips and cleaning advice will keep your diamond jewelry sparkling like new.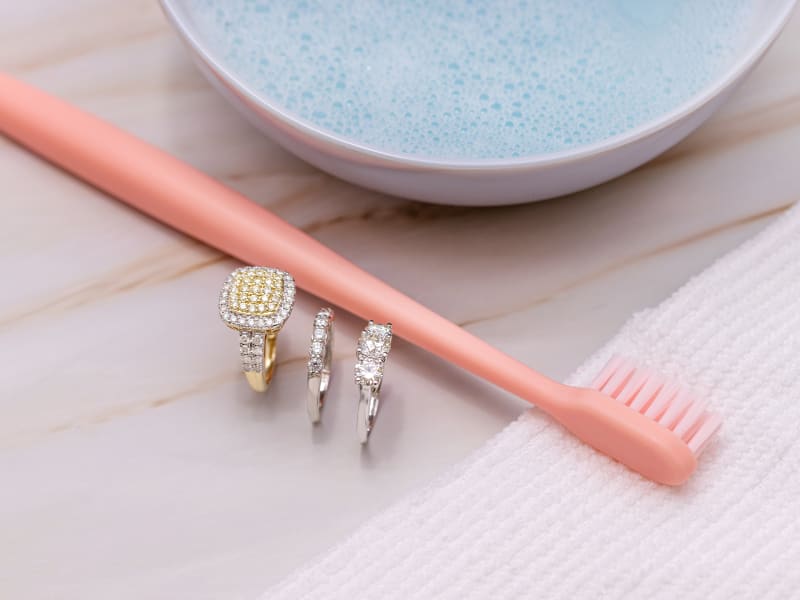 Cleaning Diamond Jewelry
Once believed by ancient Greeks to be the tears of gods, diamonds have a rich history and are known for their incredible sparkle and durability. While diamonds score a perfect 10 on the Mohs Hardness Scale, it's still important to give them some routine care. The great news is that there's more than one way to get the bling of your diamond jewelry back. Learn how to clean your diamonds with our simple steps and tips.

Getting Started
You will need the following supplies:
Two bowls
Warm water
Mild dish soap
Soft, dry cloth
Soft-bristled brush
Start by adding the warm water to each bowl and mixing a couple of drops of mild soap into one of the bowls.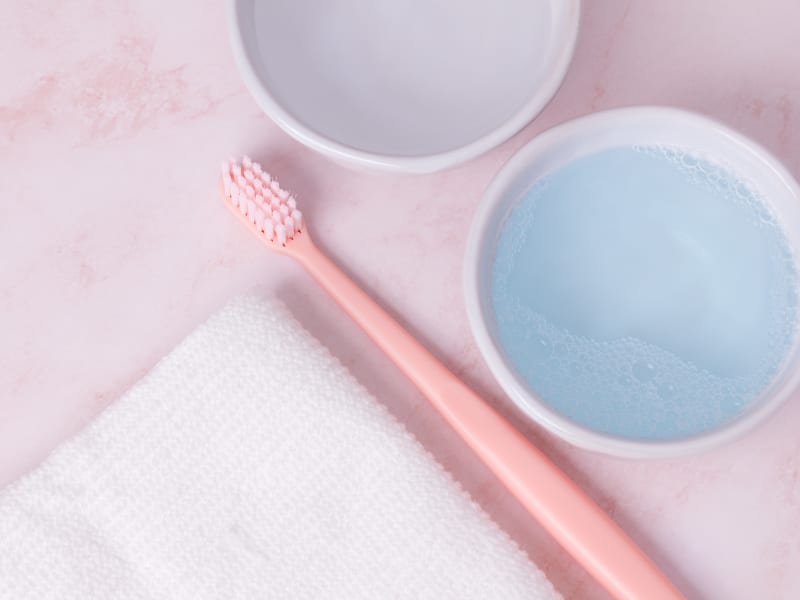 Step 1
Soak jewelry in warm, soapy water.
Let jewelry soak for 10-20 minutes, allowing every groove of your jewelry to be cleaned and sterilized.
Step 2
Using the soft-bristled brush, gently brush your jewelry with the warm, soapy water.
Pay special attention to the underside or back of your jewelry where dirt and dust can accumulate.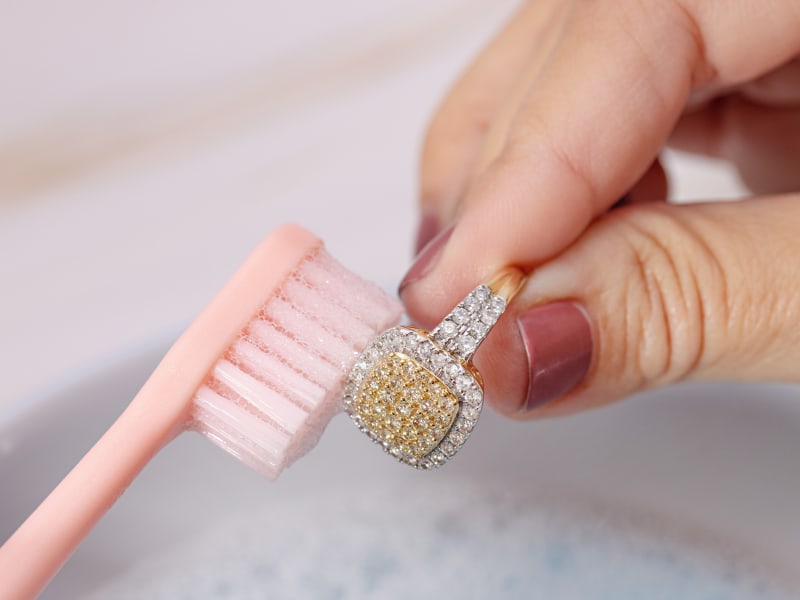 Step 3
Rinse in warm water and carefully pat dry with a soft, dry cloth.
We recommend rinsing your jewelry in a bowl of warm water and not over a sink where your jewelry could slip down a drain.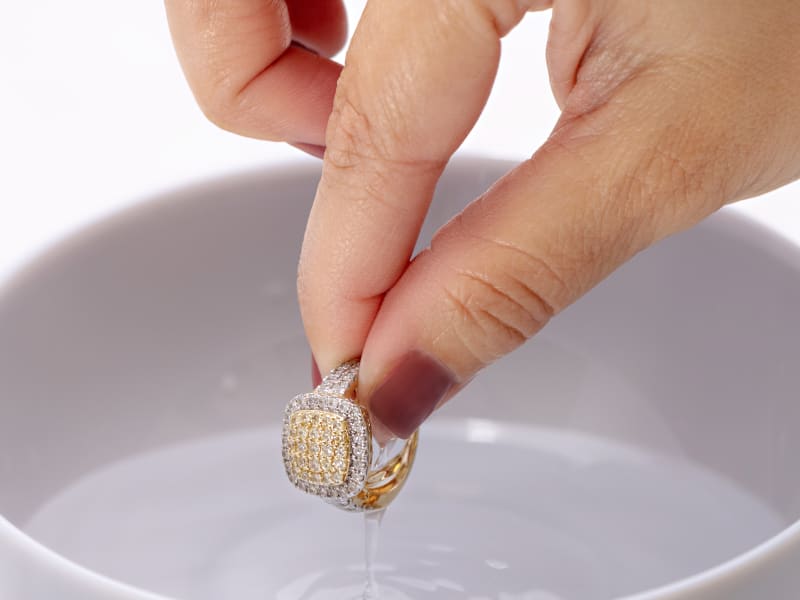 Clean Your Diamonds with JTV's Exclusive Cleaning Essentials
For cleaning your diamond jewelry, we recommend using our JTV Cleaning Essentials Jewelry Care System. This gentle system is a tested formula to super-clean your jewelry in just a few steps.
Start by opening the cleanser and pulling out the basket inside the container. Sit your jewelry on the strainer-like surface and slowly let the basket down to the bottom of the container. Let your jewelry soak in the cleanser for about two minutes. After two minutes, slowly pull up the basket and remove your jewelry.
Next, you'll want to take the small touch-up brush and gently clean the surface of your jewelry. Pay special attention to hard-to-reach areas. Rinse your jewelry carefully with lukewarm water and blot dry with a soft, dry cloth.
After cleaning, you'll want to use your Cleaning Essentials polishing cloth and rub gently to remove any residue and add a finishing shine.
For more information about each product and its ingredients, visit https://www.jtv.com/help/jewelry-cleaner.
Using an Ultrasonic Cleaner
Ultrasonic cleaner machines operate through high-frequency waves that create a bubbling and scrubbing action. This action removes dirt from all surfaces and sides of your jewelry. Every ultrasonic cleaner will have its own set of instructions for operation, but usually, you will fill the tank with water and a diluted jewelry cleaning solution. Take extra care with commercial cleaners that are possibly too strong and could damage your gemstones.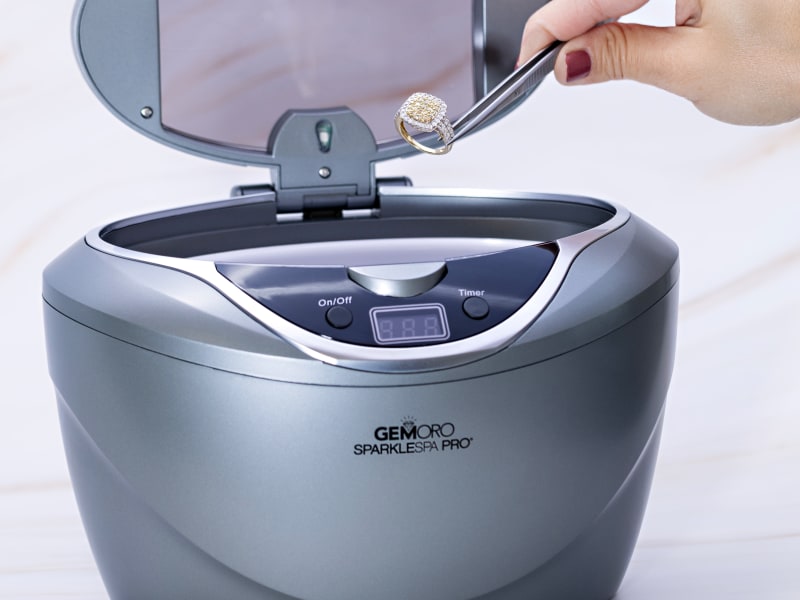 After the cleaning cycle is complete, rinse your jewelry under fresh, clean water and pat dry with a dry, clean cloth. We recommend inspecting your jewelry closely, as sometimes when dirt gets knocked loose it can loosen stones from their settings. Softly wiggle each stone to ensure it has remained in place and repeat the cleaning process as many times as needed until the desired shine returns.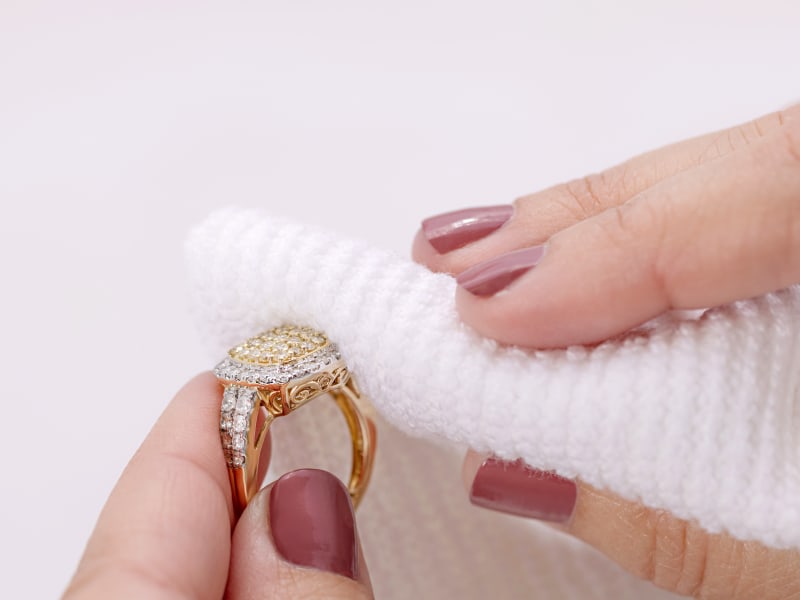 More Tips to Care for Diamond Jewelry
To prevent damage or discoloration, remove jewelry when swimming, entering a hot tub, doing a strenuous workout, or cleaning with harsh chemicals.
Consider removing your diamond jewelry when bathing to keep soap scum from building up on the surface and dulling its shine.
Prevent your diamond jewelry from coming into contact with perfumes, hair spray, makeup or lotions.
Store jewelry pieces separately to prevent scratching.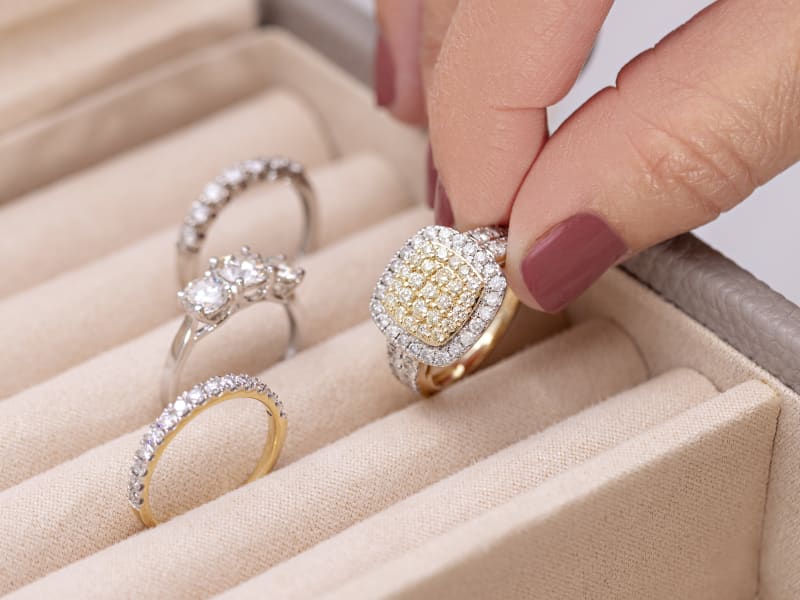 Erin Smith
Erin enjoys empowering fellow jewelry lovers with the knowledge and tools to care for their jewelry and keep it sparkling like the day they purchased it.