History of Topaz
Topaz has left its mark on several civilizations throughout the ages. Starting with the name, topaz comes from the Sanskrit word 'tapas' meaning fire, perfectly resembling the gem's fiery hues. Believed to be blessed with a golden glow from the Egyptian god, Ra, topaz earned the name 'Gem of the Sun' and was thought to protect against danger and bring healing energy. Ancient Romans on the other hand believed topaz could protect them from poisons, ward off negative energy and was a symbol of strength. Today, topaz is a symbol of strength, joy, healing, and harmony.
Science of Topaz Colors
Topaz's color is a result of the presence of trace elements and defects in its crystal structure making the gemstone allochromatic. Natural topaz is either colorless or slightly yellow, however, when there is a presence of impurity elements, mainly iron and chromium, topaz can turn into shades of orange, red, and purple. Although blue topaz has become increasingly popular due to its serene and calming shade, its color rarely occurs naturally and instead results from irradiation and heat treatment, which converts colorless or pale yellow topaz into blue.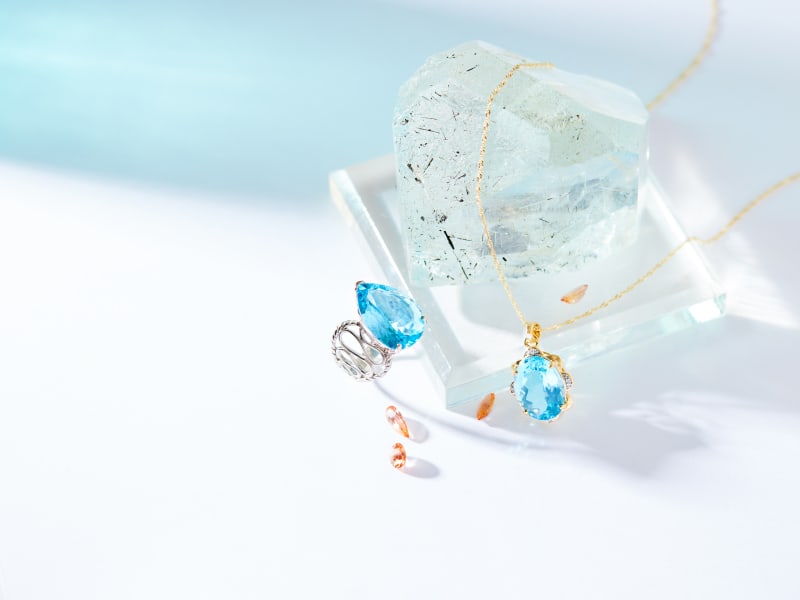 Spectrum of Topaz Colors
From warm, golden oranges and yellows to cool, frosty blues, topaz is a diverse gemstone that displays a spectrum of colors, each with its own special meaning.
Natural Topaz Color
The natural topaz color is most commonly colorless, also referred to as "white topaz." White topaz's transparent appearance symbolizes the pursuit of truth and clarity and showcases a pristine and simple style. White topaz jewelry pairs seamlessly with any color palette. Its neutrality allows it to enhance the beauty of other gemstones and metals, making it a versatile complement to various styles and aesthetics.

Pink Topaz
Pink topaz is one of the rarest topaz colors you can find naturally and its jewelry is a soft whisper of affection as its delicate and romantic blush color represents love and compassion. Pink topaz is a great gemstone to gift a piece of jewelry for a loved one or yourself, as it pairs well with other pastels for a bright spring or summer look. You can also opt for the neutral route with champagne, white, and beige for a more elegant and refined look.
Blue Topaz
Ranging in soft sky blues to the colors of oceanic depths, blue is the most popular topaz color while also being the December birthstone.
Sky Blue Topaz
Sky blue topaz is just what you think it is. This variety of topaz is the lightest of all blue topaz, embodying the tranquil aesthetic of clear blue skies and symbolizing peace and harmony. Sky blue topaz jewelry pairs well with neutrals like white, beige, and soft grays, enhancing their calming effect. It can also be paired with complementary shades of pale pink, seafoam green, or even a deeper navy blue for added contrast.
Swiss Blue Topaz
Sometimes called Super Blue due to its electric hues, Swiss blue topaz color varies from a pastel to deep blue. The Swiss blue variety symbolizes serenity and open communication as it is believed to soothe the mind and express emotions. Swiss blue topaz jewelry pairs well with whites, silvers, grays, and a coastal landscape background as it creates a refreshing and versatile combination that works well across various styles.
London Blue Topaz
London blue topaz embraces the depths of the ocean harbor and a starry night sky as it displays the deepest shade of blue topaz. This deep blue is associated with mystery and intrigue, symbolizing the allure of the unknown. Pair this enigmatic blue with shades of black, silver and gray, creating a bold and sophisticated combination that exudes an air of mystery and sophistication. For a more striking and energetic combination, mix and match shades of orange with London blue topaz jewelry.
Glacier Topaz
In between sky and swiss blue topaz sits glacier topaz. Icy with fiery brilliance, glacier topaz jewelry is like adorning yourself with frozen crystals, walking in a winter wonderland. Glacier topaz's delicacy resembles tranquility, calmness, and a peace of mind.
Mystic Topaz
Natural topaz undergoes a process called chemical vapor deposition to give it the dark rainbow colors of mystic topaz. A colorless topaz is coated on the pavilion with a tiny thin layer of titanium giving it that irresistible iridescence! Often associated with creativity and transformation, mystic topaz jewelry offers a kaleidoscope of colors offering an ethereal experience.
Imperial Topaz
Imperial topaz is a rare variety that displays an orange-pink hue, evoking feelings of warmth and vitality, resembling the changing-colors of autumn leaves and the clashing colors of a sunset. During the 18th and 19th century, Russia's Ural Mountains were a notable source of imperial topaz. It was historically associated with Russian royalty, adorning intricate jewelry pieces and lavish ornaments, symbolizing good fortune for the wearer and imperial splendor.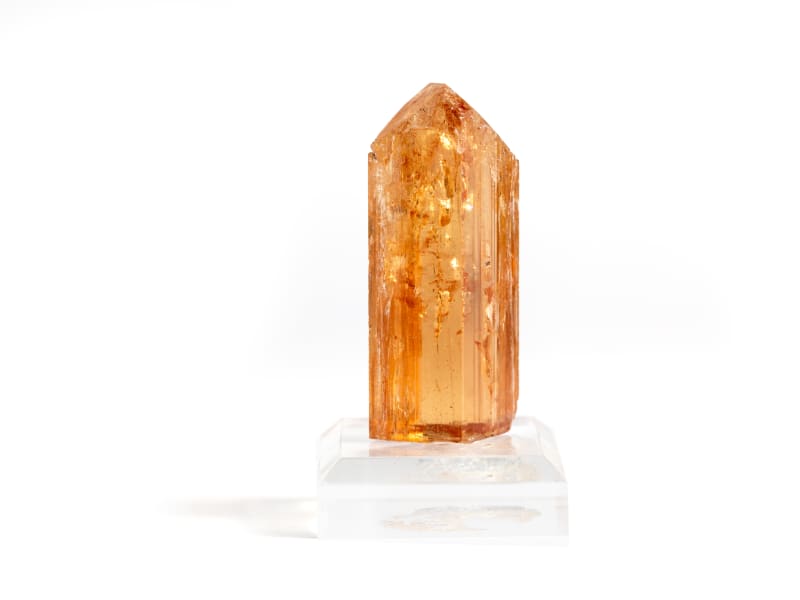 Topaz Properties
Referring to the scratch resistance of the gemstone, topaz scores an eight on the Mohs Hardness Scale which makes it highly durable as a jewelry piece. However, topaz has perfect cleavage meaning it can chip easily along its crystal planes. In some cases, topaz may exhibit pleochroism, meaning it shows different colors when viewed from different angles. This property is more prominent in colored topaz varieties.
Caring for Topaz Gemstone and Jewelry
To care for your topaz gemstones and jewelry follow these steps to ensure well-kept beauty.
Use warm water and dish soap or jewelry cleaner as a solution to gently scrub the hard to reach areas of your jewelry.
Avoid harsh chemicals and prolonged sunlight exposure as it can tarnish the jewelry and strip the gem of its color or the setting.
Use soft pouches or a jewelry box to separate your jewelry pieces so scratching against other gems or jewelry pieces doesn't occur.
Make sure to avoid wearing your jewelry during exercise, swimming, or other activities in which the jewelry might tarnish.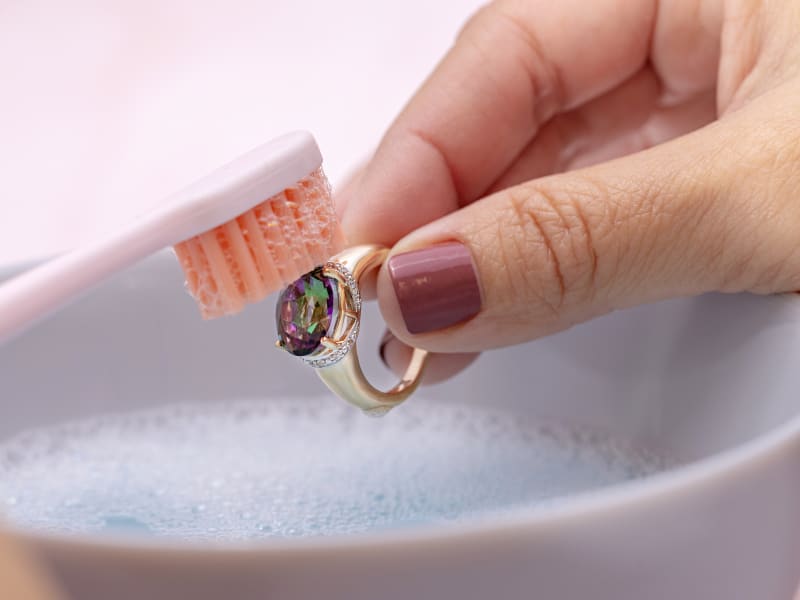 Topaz Jewelry Buying Guide
Topaz offers a rainbow of colors and is highly scratch resistant, so you can pick which color fits your style best and it'll be ready for everyday wear. Choose from topaz dangle earrings that drop celestial beauty, necklaces that lay delicate enchantment, or bracelets and rings that wrap you with regal opulence. Explore our December Birthstone jewelry collection if you're celebrating someone close or even yourself. Topaz jewelry has endless styling possibilities and is ready to adorn you.