![if (gt IE 9) | (!IE)]> <![endif]>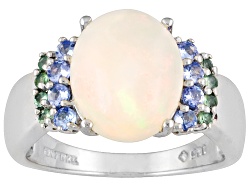 Opal
Opal has always been considered one of the most desired gems in the marketplace, earning it the undisputed title as Queen of Gemstones. Opal's phenomenal play-of-color effect is not seen in any other gemstone; a unique quality that has attracted the attention of gem lovers through the ages. October birthdays are lucky enough to call opal their birthstone!
Enjoy Special Offers and Insider Access
when you sign up for JTV email!
plus
on Today's Order