![if (gt IE 9) | (!IE)]> <![endif]>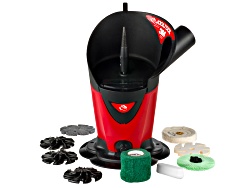 Jooltool™
The Jooltool™ is a revolutionary, compact, multi-functional tool perfect for grinding, sharpening, sanding, deburring, polishing and much more. The Jooltool™ is designed to be the safest sharpening system in the industry.
Jooltool™ Project Videos
Head over to the Jewel School weekly project video page to view three Jooltool™ demonstration videos by Jooltool™ developer Anie Piliguian!

WATCH PROJECT VIDEOS
Jewelry Making, Jooltool & Accessories
Enjoy Special Offers and Insider Access
when you sign up for JTV email!
plus
on Today's Order